https://www.eia.gov/todayinenergy/detail.php?id=27072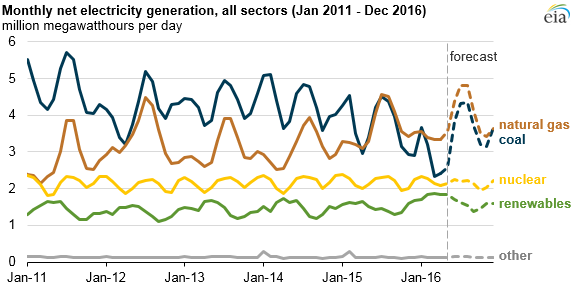 ---
Republished August 15, 2016, 10:30 a.m. to correct the projected date when natural gas-fired electricity generation surpasses coal-fired generation.
Natural gas-fired electricity generation in the United States is expected to reach a record level this year, providing an average of 3.8 million megawatthours per day in 2016, or 4% higher than in 2015. Based on EIA's latest Short-Term Energy Outlook (STEO), monthly natural gas-fired generation is expected to reach record highs in July and August, when weather-related demand for air conditioning increases electricity demand.
Natural gas had long been the second-most prevalent fuel for electricity generation behind coal. Natural gas-fired generation first surpassed coal generation on a monthly basis in April 2015. Natural gas-fired generation has surpassed coal-fired generation in most months since then and is expected to continue to exceed coal generation through the remainder of the year, ultimately providing 34% of the United States's electricity generated this year. Coal's share of the 2016 U.S. electricity generating mix is expected to be 30%, nuclear, 19%, and renewables, 15%.